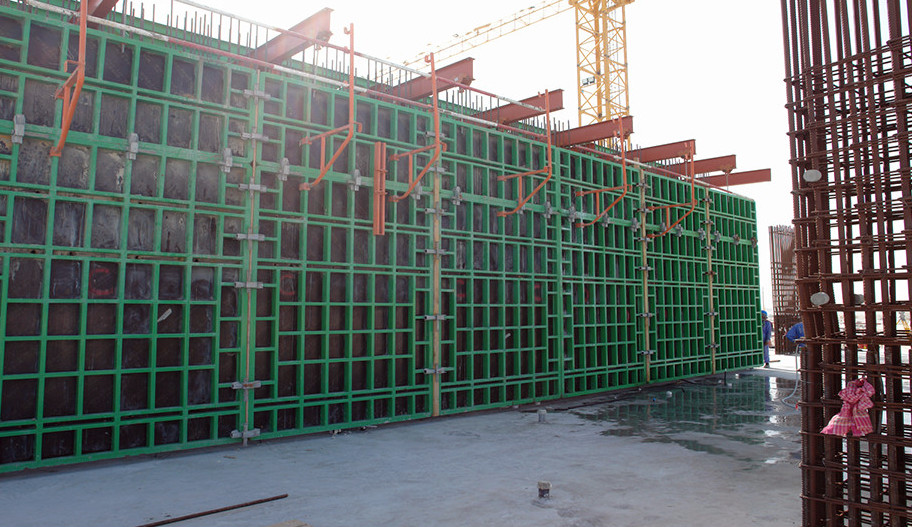 TB 120 Steel Formwork System
TB 120 steel formwork system, is the heavy type with high strength formwork. With torsion resistant hollow-section steel as frames combined with top quality plywood, 120 steel frame wall formwork stands out for its extremely long life span and consistent concrete finish. The flexible modular design provides unlimited possible combinations, in both width and height. The system has been popularly applied in North America, Europe, Middle East, Southeast Asia market, boasting its virtues among the most high-effective and safest modular formwork ever.
Main Components

| | |
| --- | --- |
| Cross section of the 120 Wall Form System | Erection & Lifting |

Features Of The System

Rapid and effective working: With the small number of easy-to-handle component parts, the forming process highly speeds up.
Versatile & Flexible:  The free-selectable panel combinations adapt complicated geometrical shapes, such as wall connections, T-junctions and corners.
Systemized & Standardization: The practical steel clamp can accommodate all panel connections.
Extremely long life span and more repeat uses: The high quality plywood combined with the strong steel frame Q345B steel, hot-dip galvanized or powder coated, prolong the system life span and makes this system exceptionally economical.
Universal panel: applied to both wall and columns'
Key factor: Built-in double steel waling Matrix structure, the biggest panel for outside wall Maximum load-bearing capacity: 57KN/m2.
Site Application
Used in shear Wall/Column/Corewall/Watertank